IoT or the Internet of Things has recently appeared quite a lot and attracted a lot of attention from the technology world. Because the explosion of IoT will have a strong impact on human life, work, and society. The application of IoT in Vietnam is most evident in the manufacturing sector and will spread to all other industries and to the whole society in the coming years. The emergence of IoT will contribute significantly to promoting the development of Vietnam's economy. This excites policymakers in Vietnam, citizens, and most of all, businesses, who are ready to tap into the huge potential of this sector.
1. Vietnam: An epitome of great potential
In October 2020, the chairman of LUMI, a promising IoT company in Vietnam, Mr. Nguyễn Tuấn Anh said that IoT is also a potential market, the IoT segment on smartphones alone can be worth up to 110 million USD and increase to 360 million USD by 2023. This statement is not an over-optimism but completely grounded.
At the present time in Vietnam, there are many companies focusing on developing smart technology products and solutions with IoT platforms. Some of the familiar names that have been gradually accepted by the market in recent years such as Lumi, BKAV, SmartHome, etc. One common point that is easy to see in these suppliers is that they focus on home appliances. Smart Home (SmartHome) is aimed at customers who are willing to spend money to facilitate household activities. These products are invested quite methodically in terms of form to help the house become more luxurious.
A smart home by LUMI. Source: lumi.vn
2. The aspirations of domestic enterprises and the advantages of foreign enterprises
Vietnam does not have any real IoT applications that are having a strong influence on Vietnamese social life. In the coming time, applications in the field of smart traffic such as non-stop toll collection, cold fines by the camera, technology taxis (Uber, Grab, or fast delivery …) are predicted to be IoT-related applications. the forecast will become popular, having many impacts on life. Potential fields such as e-health, smart agriculture, smart real estate will need more time to have suitable IoT applications for Vietnam.
From an industrial perspective, most of the above application systems, if using IoT technology, are of foreign enterprises, domestic enterprises have basically only focused on applications on mobile phone platforms. personal computers are small but have not fully exploited the intelligence of sensor systems or exploited big data. In particular, hardware devices (cameras, RFID devices, chemical sensors, etc.) must also be imported.
In the short term, Vietnamese people can benefit from the overwhelming number of foreign businesses, because they also bring many jobs. But the advantage of low labor cost. However,  new technologies, like IoT, can change the game.
Mr. Maciej Kranz- Vice President, in charge of the Innovative Strategic Solutions Group at Cisco commented about Vietnam that countries across Asia like Vietnam have long benefited from similar labor costs. relatively low prices, which initially helped them become global manufacturing hubs. However, the advent of IoT combined with advanced connectivity technologies such as data analytics, artificial intelligence, cryptocurrency, and fog computing, makes these countries and the company operate in It is necessary to develop other strategies beyond low labor costs.
The Vietnamese government is well aware of this. With a population of nearly 100 million people, Vietnam is considered as one of the countries with a good digital economy development rate in the ASEAN region. The Vietnamese government also clearly shows its determination, orientation, and strong action efforts in promoting the development of the digital economy. With regard to the IoT sector, the Ministry of Science and Technology of this country has advised the Prime Minister to issue a decision to amend and supplement the "List of high technologies prioritized for development investment and development encouragement". Enterprises, when manufacturing IoT products and applying IoT technology in production, will receive the highest incentives from the State according to the law on high technology. In addition, the Ministry of Science and Technology has issued and is organizing the implementation of a national key science and technology program "Supporting research, development and technology application of industry 4.0", in which the Development and application of IoT technology is one of the main goals.
According to this Deputy Minister, Mr. Bùi Thế Duy, now Vietnam's first IoT Innovation Center has been put into operation at Hoa Lac Hi-Tech Park. With the goal of becoming an innovation hub, connecting universities with research institutes and businesses. Thereby promoting training, guiding research groups to the latest knowledge about technology. The center will support, form groups to create products, establish start-up businesses to call investors, and large enterprises to develop IoT applications in agriculture, smart cities, etc.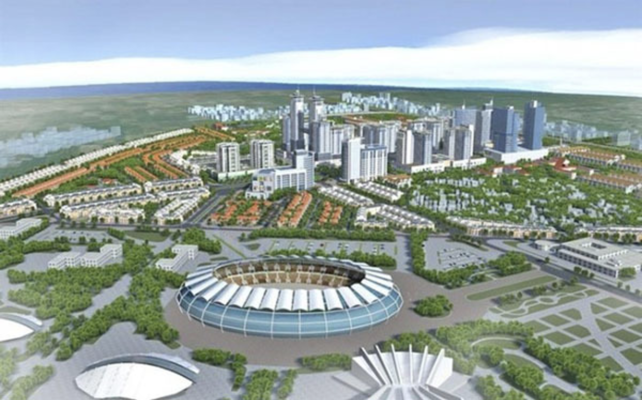 Innovation Center Project – Vietnam's ambition to master new technologies. Source: https://vietnamnet.vn/vn/tuanvietnam/tieudiem/tu-khu-cong-nghe-cao-hoa-lac-den-trung-tam-doi-moi-sang-tao-quoc-gia-520726.html
3. Answer to your question: Is now the time to have an IoT team in Vietnam?
Now! In a country with stable politics like Vietnam, policies are difficult to change, even after the leader's term expires. As we have shown, Vietnam has huge potential for IoT, and their government also shows determination to develop this technology. Vietnamese people are not conservative, always excited about new technology. More specifically, Vietnamese businesses are also showing confidence to dominate the IoT market share in their country. A recent Cisco study entitled "Ready, Steady, Unsure" said: More than half of the companies in Vietnam polled ranked IoT as one of the top three technologies that will impact their digital future. their business. This study also shows that 36% of the companies that responded have started using IoT solutions. Along with Singapore, Vietnam is the country with the highest rate in Southeast Asia. That proves, if you hesitate, you can slow down in a fiercely competitive environment like Vietnam.
When I gave this article to a Vietnamese friend, he was very excited and proud of his country. This is also the position of Vietnam when talking about the industrial revolution 4.0, the digital economy. The generosity of Vietnamese people for new things is always there. Vietnamese people always open their arms to welcome businesses from all over the world. But you should take advantage before this welcome becomes crowded.

Source:
[1] https://funix.edu.vn/tin-tuc-funix/iot-tai-viet-nam-thi-truong-tiem-nang-tri-gia-8-200-ty-va-co-hoi-cho-nguoi-tre/ [2] https://ifactory.com.vn/thuc-trang-trien-khai-iot-tai-viet-nam/ [3 https://www.n-ix.com/iot-developers-dedicated-iot-development-team/ [4] https://nhandan.vn/khoahoc-congnghe/bat-kip-xu-the-ung-dung-in-to-net-van-vat-356902/ [5] https://www.angiang.dcs.vn/Lists/KinhTe/DispForm.aspx?ID=190 [6] https://hydrotech.vn/vi/thuc-trang-va-phat-trien-cua-xu-huong-iot-tai-viet-nam