1. What is Build-Operate-Transfer Model?
The build-operate-transfer model in software outsourcing or simply BOT is typically linked to project funding, public-private partnerships, and infrastructure.
Outsourcing models are more widespread, such as co-sourcing or employee rental, complete sourcing, and outsourcing of facilities, which are frequently the beginning point for operations offshore. Formerly the firm is ready to take charge of and control fully the entity that the outsourcing partner once handled, it may make a decision at any moment.
This step comprises the creation of an operating unit covering all aspects from building selection, infrastructure installation such as the Internet and IT systems, personnel employability, and administrative and law-making arrangements.
The offshore project includes program management, growth, maintenance, updates, and product support is managed in this phase.
The ownership of the project is thus ultimately passed on to the customer only when the customer is completely willing to handle the project or when the agreement ends. It includes the new offshore subsidiary of the customer, assets transfer, and handover transactions.
Fig. 1: Illustration of BOT(Source: https://wearefram.com/blog/build-operate-transfer-bot-model-in-software-outsourcing/)
2. Why It Is Essential?
Time is money as contractors. Sometimes you forget to appreciate your own time, which means every hour you work is worthwhile and worth money. Simply said, you may need 8 hours to grasp how things operate and to find out how to pay another person to perform the task in only one hour. In fact, you save money since you can invest your business into something valuable and accomplish something because of the time you have not wasted trying to figure it out.
It may be a turnaround in thinking, but understanding it is crucial. The built-in operational transfer model is a pretty intelligent technique of outsourcing that saves you time and money efficiently by saving you longer and shorter costs. In turn, this helps reduce costs over a certain period.
Certainly, many things are necessary for company entrepreneurs or CEOs. In turn, this raises stress. This indicates in point 2 that even the most excellent CEOs require some assistance. Thanks to its software externalization, entrepreneurs or CEOs are able to create an operational transfer model with a little magic. This helps to lower stress levels as a helper for the company is offered. Thus, corporate objectives are timely and generally budget-related. Although outsourcing may be at first a little unpleasant, the stress levels decrease if rhythm or habits are adopted.
Many businesses prefer to use the OSM model since it offers a number of advantages by having an experienced outsourcing partner at their disposal. They may manage, implement and maintain operations for experienced partners while minimizing risks – particularly when going to a new nation or testing a new market. It's a win-win deal, of course…
3. Advantages and Benefits
Advantages
The possibility to purchase the full development activities offshore or offshore at the specified period
With BOT, your external Outsourcing Agreement is assured by a contract to form part of your company during the specified term. Any other IT outsourcing commitment model cannot provide this arrangement.
The availability of local knowledge
In all topics that your firm abroad takes on, local expertise is vital. And a big business hazard is preparing to enter an unknown region. The method in which government institutions and companies function, cultures, legislation, language, and practices differ considerably from country to country. In this respect, it is one of the finest methods to build your presence in a new nation to rely on a skilled local IT partner. Before you assume responsibility for your foreign IT operations on your own, you will get all knowledge needed progressively in a regulated and almost risk-free way.
Flexibility to leverage your offshore team if the business needs change
BOT is considerably more suited to insourcing needs and allows you to use your resources more flexibly if a big shift occurs in your organization. Simply said, you may transfer your offshore or nearshore crew to various projects or activities as necessary. It may also make working with your in-house resources, speeding up delivery and quality, simpler for a BOT-based team.
Greater control over your overseas operations
BOT guarantees that your offshore or nearshore team has the greatest control possible. All (or almost all) regulations are made and the procedures of your team have extensive oversight so that they match with even the most stringent standards for safety and compliance. In addition, the final transfer may be linked to efficiency measurements and allows you to exercise extra influence in controlling your outsourced workforce.
Greater alignment with your corporate culture
Although the dedicated team model may ensure that your outsourced staff and your company culture are aligned at a high level, the BOT model allows you to bring that harmonization to a completely new level. From the very beginning, BOT enables you to promote your business culture. This covers the selection of talents and direct connection between your customers and your external staff. It is also simpler to "transplant" your finest practice in your own country to your new abroad.
Benefits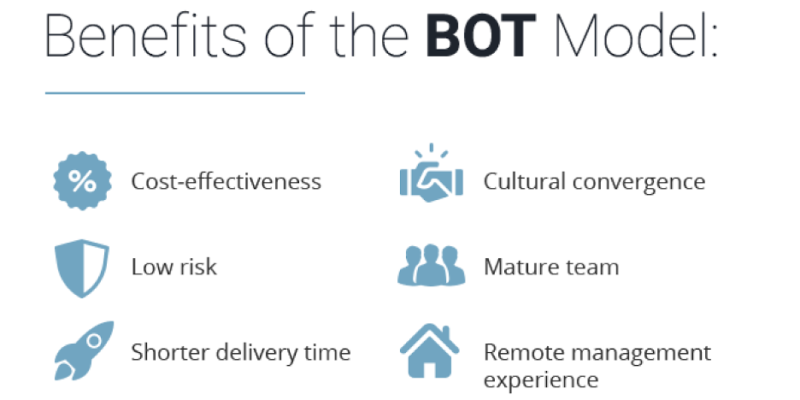 Fig. 2: Illustration of Benefits of the  BOT Model (Source: https://wearefram.com/blog/build-operate-transfer-bot-model-in-software-outsourcing/)
Helps put the product on the market faster
This is a frequent advantage of the BOT model since it has resources in a different time zone. The model contributes to getting the product faster to market since it seems to have a cycle of virtually 24/7 – which also depends on the difference. However, it guarantees constant development and does not waste a lot of time in the day.
Cost-saving and profitable
Companies all have to save money rather than spend it. Therefore, the operational transfer model of software outsourcing typically underlines that it helps to decrease cost in any way.
In most situations, the approach saves up to 60 percent of the typical cost since the project and the team belongs to an offshore company, are controlled and operated. The saved money may be used to enrich and enhance the workforce of the firm. It may also be utilized to invest or utilize more talented resources.
The software outsourcing BOT approach has the additional advantages of lowering risk. Of course, there are always dangers and since there are issues for each country at some time, the BOT model helps reduce the risk that investment for its investors may become more diverse in a different country.
Risks are also lessened because the outsourcing partner knows the situation in which the nation operates more often than not. As a consequence, they are typically prepared for anticipated difficulties throughout the period when the team is being set up.
Without concern for logistical planning or establishing an Offshore office, the entrepreneur can set up a subsidiary. The team of employees is controlled by the external partner. That includes. This is everything at a low cost as well as a little charge for early commitment.
Furthermore, the partner also draws on local geographical expertise. This is extremely useful when setting up a presence as a subsidiary overseas. In many cases, the external partners already have expertise and contacts which are not organically established by other firms. Those firms do not need to invest so much time, especially when it comes to hiring, acquiring office space, and other matters, understanding the local complexities.
The resources staff is already trained and adapted once the transfer has been initiated. You're ready for it. Once the resources are available, the firm may simply schedule the resources and the final transfer – frequently on the basis of goals and quality measures.
Businesses may quickly scale their activities by means of the BOT model through an increased spectrum of services, which in turn fills the holes in the business model. This is largely due to the firm's spare time when the outsourcing company deals with other issues and allows the brainstorm to grow quickly.
With an existing experienced workforce, firms can swiftly boost or rush up and launch new technology. New technologies are also an added benefit to which team members are typically involved and retained.
With more expert resources, a larger pool of ideas may assist drive development in the proper way without having to manually investigate the new things and learn from the managing director or firm. Rather, they may welcome criticism or suggestions, or allow the team to expand as necessary – assuming they have the flexibility to do so.
All of this nevertheless presents a problem for certain firms, to promote the notion of having corporate subsidiaries outside their main office. The construction transmission models are, however, designed to enable these enterprises to access outsourced providers and to set up offshore and environmental teams. They might take control and ownership of the establishment over time.
Source:
https://wearefram.com/blog/build-operate-transfer-bot-model-in-software-outsourcing/
https://saigontechnology.com/blog/build-operate-transfer-bot-model-in-software-outsourcing#build-operate-transfer-model-in-software-outsourcing
https://www.teaminternational.com/build-operate-transfer-it-outsourcing-business-benefits/