How important is customer service in a customer's purchasing decision? According to Forbes, a study by Bain & Company found that customers are four times more likely to buy from a competitor because they are looking for better customer service than for reasons related to price or product. The advice given is that companies should list their customers' top concerns about a product or service and deal with these issues with chatbots [1].
Chatbots can be understood as tools that simplify the interaction between humans and computers. These are considered the best investments of companies because they are easy to make, they can save manpower, save time for businesses and increase sales. So what are chatbots? What can they be used for? And what examples show that chatbots are becoming increasingly important? Please join us at the end of this article.
    1. WHAT ARE CHATBOTS?
Chatbots are software programs with which users can communicate through chat interfaces such as text messages, pop-up text chat, or possibly voice chat, and more. There are two main types of chatbots: one based on pre-existing rules and data sets, mostly FAQs, and one generated by artificial intelligence (AI), like Apple Siri or Google Assistant.
With chatbots from rules, they can only interact with users through pre-programmed questions. To work properly, they must be updated by their creators to improve performance.
Smarter than chatbots from rules, chatbots using artificial intelligence can understand our language. This means that you don't have to use certain words or phrases; you can enter the conversation like with a real person. The more interactive, these chatbots will also become intelligent as they learn from each conversation with you [2].
When you go to e-commerce sites, most will see a chatbot pop up in the corner of the screen. Whatever type of chatbots they are, they are used for customer support. While searching online menus is not an option many people think of and calling employees directly is time-consuming, using chatbots is obviously the most suitable option for customers. So what can chatbots be used for? Let's find out!
    2. APPLICATIONS OF CHATBOTS
Chatbots are most used to interact with customers. Customers get frustrated when they can't find the answer to a simple problem. A chatbot solves simple problems quickly and inexpensively. They can recommend products, answer the most common questions, and quickly record feedback. According to the "2018 State of Chatbots Report" in US [2], the top three use cases for chatbots are getting a quick answer in an emergency (37%), resolving a problem (35%), and getting a detailed answer or explanation (35%). Of course, chatbots do more than that [4]. Listed below, we summarize what chatbots can do:
Answer the question
Collect customer feedback
Order products
Find products
Recommend items
Shipping Tracking
Information about promotions
Provide selling price
Payment processing
Create a puzzle game
And more!
The power of chatbots is used in many different business areas, led by online stores, according to Tidio's survey [5]. These chatbots are used for instant communication solving problems for customers quickly. They provide an increasingly valuable and personalized shopping experience.
More details about the survey, more than 77% of chatbots come from online store owners, the rest come from various business fields such as service, education, beauty & wellness, healthcare, and others. You can see the details through the chart below.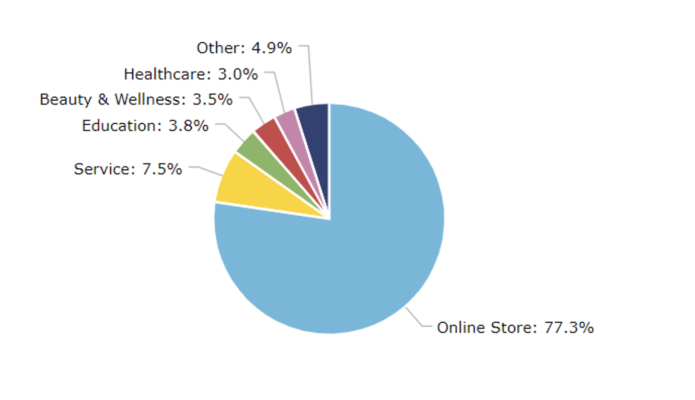 The graph shows the percentage of businesses using chatbots, according to Tidio.
Charting tool: amcharts
    3. EXAMPLES OF CHATBOTS
Chatbots continue to thrive, more and more types of chatbots are developed and released. Here are some resources to help you find chatbots and learn more about them.
    WHO Health Alert
WHO Health Alert is a chatbot that can communicate in 7 languages such as English, French, Hindi, Italian, Arabic, Spanish and Portuguese. You can chat with this chatbot using WhatsApp and Facebook Messenger. This chatbot gives you immediate and accurate information about the COVID-19 situation around the world. You can find information about the number of infections in the host country, effective ways to prevent coronavirus. And while not related to the pandemic, you can also get help from the WHO chatbot to quit smoking.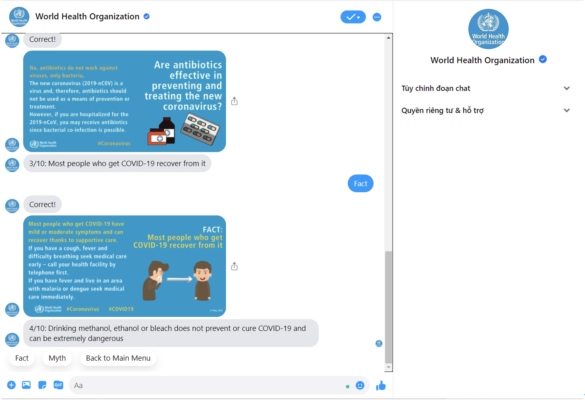 Chat with WHO Health Alert on Facebook Messenger. Source: screenshot.
    Replika
Replika is your very own personalized AI chatbot with the mission of becoming a confidant you can trust. You can chat, ask about the little things and share all you want with a non-judgmental friend like Replika. The more you chat with, the smarter this AI chatbot will get [6].
Chat with Replika. Source: researchgate.net
(https://www.researchgate.net/figure/A-sample-conversation-with-Replika_fig5_339763899)
    Domino Pizza's Chatbot
You can order your favorite pizzas on Messenger by chatting with Domino Pizza's chatbot.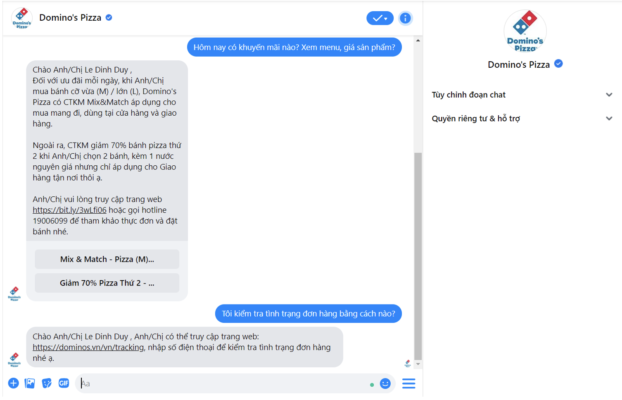 Chat with Domino Pizza's chatbot in Vietnamese. Source: screenshot.
    Babylon Health
Babylon Health is a digital-first health service provider and value-based care. The company offers AI chatbot consultation based on personal medical history and common medical knowledge as well as live video consultation with a real doctor whenever a patient needs it [7]
.
Chat with Babylon Health Chatbot. Source: theverge.com (https://www.theverge.com/2017/1/4/14168312/uk-nhs-babylon-medical-chatbot-helpline)
    Kasisto's KAI Financial Chatbot
KAI is a financial chatbot with great ambitions from Kasisto. This company is constantly improving to make it possible for KAI to manage a variety of financial tasks, from simple to complex. According to Kasisto, 90% of KAI's conversations with customers are done without a human. This helps KAI to serve more than 18 million users and the number could be larger [8].
Chat with KAI. Source: kasisto.com
(https://kasisto.com/blog/manulife-bank-offers-a-modern-digital-banking-experience-with-the-launch-of-mai-a-personal-virtual-assistant/)
    4. CONCLUSION
Great!! We have given you an overview of chatbots, from their definition to their capabilities. Chatbots are growing in popularity, proving that they are an effective tool and a smart choice for any business. Chatbots allow customers to find answers to simple questions quickly and provide a highly personalized shopping experience for customers. These amazing capabilities of chatbots help businesses save money and effort while increasing revenue and customer satisfaction. So, what are you waiting for without creating your own chatbots right now?
SOURCE
[1] https://www.forbes.com/sites/stephanieburns/2020/08/05/how-to-use-chatbots-to-grow-your-business/?sh=1e6ca9532dab [2] https://edu.gcfglobal.org/en/thenow/what-are-chatbots/1/ [3] https://www.drift.com/blog/Chatbots-report/ [4] https://www.tidio.com/blog/what-is-a-chatbot/ [5] https://www.tidio.com/blog/chatbot-statistics/ [6] https://help.replika.ai/hc/en-us/articles/115001070951-What-is-Replika- [7] https://www.theverge.com/2017/1/4/14168312/uk-nhs-babylon-medical-chatbot-helpline [8] https://kasisto.com/kai/