In today's dynamic economy, receiving, storing, and transporting items has never been more important. Today, almost every business is a member of a global supply chain that necessitates speed, agility, traceability, and compliance. The use of barcodes in warehouse and logistics management helps to simplify and automate logistical procedures. With scanner integration, you may avoid time-consuming manual steps: Thanks to our mobile data-gathering equipment, you can work fast, accurately, and entirely automated. The data acquired by the mobile barcode scanner is sent in real-time to your mobile devices and also straight to SAP.
1. Overview of SAP
SAP is the shorthand of Systems Applications and Products in Data Processing and is a software solution of the ERP (Enterprise Resource Planning). They create software to manage company operations and customer interactions. The SAP system is made up of a variety of fully integrated modules that cover almost every element of business management.
2. What is SAP WM?
SAP WM is an SAP ERP warehousing management application tool that provides crucial informational analytical reporting data of inventory management such as good issue and good receipt, batch and quality management in the warehouse, types of movement in the warehouse, and so on. It helps control and manage the movement and storage of goods and raw materials within a warehouse with great trajectories.
The SAP Warehouse Management System (WMS) offers customizable, automated support in processing all product movements and controlling inventories in your company. All logistical procedures within your warehouse may be scheduled and processed efficiently by the system.
The following are the specific functionalities of the SAP warehouse management system (WMS).
It can handle warehouse structures, even some complicated structures.
SAP WM is capable of tracking stock movement and processing differences.
Allows for the simple handling of potentially dangerous materials.
SAP WM can combine with bar code scanners, which simplifies the inventory process.
SAP warehouse management is capable of processing all warehouse transactions, including goods receipts, issues, and stock transfers.
SAP WM controls inventory at the storage bin level, making it less chaotic and easier to manage.
3. What is a barcode?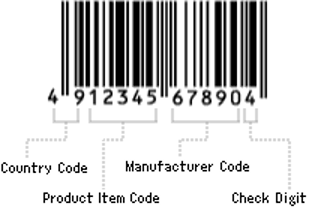 Source: https://www.denso-wave.com/fsys/en/adcd/fundamental/barcode/barcode/img_02__208x139.gif
A barcode is a machine-readable representation of digits and letters made up of bars and spaces. Stripes on the packaging of items sold in supermarkets, convenience shops, and other businesses are becoming commonplace. Barcodes are what they're called. A barcode is made up of different width bars and gaps that may be read by an optical barcode scanner.
4. How Do Barcode Scanners Work?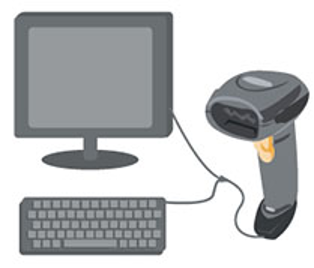 Source: https://jad5p481iok18f24519n5ve1-wpengine.netdna-ssl.com/wp-content/uploads/scannerwedge_0.jpg
You've probably seen cashiers using scanners to read the barcode on the item. We know that when a flashing red light passes over a barcode, some kind of intelligent process occurs.
A barcode scanner's function is to scan or read a barcode symbol and then send an output to a computer through a decoder and cable. The decoder detects the kind of barcode symbology it is viewing, interprets the bar and space information, and provides data to a computer in a human-readable manner. Special application software may be required for more complex tasks, such as writing that data into inventory records, sending and receiving files, or monitoring work-in-process.
The ability to quickly enter data into a transaction by scanning barcodes is one advantage of barcode scanners.  As a result, during the reception of products to the storage, for example, the user of the scanner does not have to manually input the material number, amount, batch, and so on, but instead just scans the information from the barcode. We not only save time but also reduce errors when inputting data. Furthermore, running a lightweight and convenient reader in warehouse settings is faster and easier. These gadgets are often highly durable and offer a higher accuracy level.
5. Integration of SAP WM with barcode scanners
Scanners are connected online with SAP ERP, enabling for dynamic implementation of activities in the system. Those tasks can be collecting pallets for release delivery, organizing products in the warehouse, and so on. A suitable translator is necessary to enable the connection between the scanner and the system. When combining barcode scanners with SAP WM, we may select between two technologies: SAPConsole and ITS Mobile.
SAPConsole is an SAP system-integrated technology that transforms SAP displays to text, showing its content on mobile device screens. Because mobile devices have a lesser resolution than monitor screens, terminal transactions must be prepared accordingly.  SAPConsole connects with the SAP system and wireless mobile devices through the telnet server. Mobile gadgets require a wireless network connection.
Advantages of SAPConsole: Supporters of SAPConsole believe that terminal transactions should primarily function and not necessarily look good. This technique is economical. Even when the expenses of the mobile devices are included, using SAPConsole technology to deploy SAP WM is less expensive.
Disadvantage: When developing transactions for barcode scanners, like with SAPConsole, the constraints of a mobile device's screen size must be considered.
IT'S (Internet Transaction Server) Mobile is a server that allows access to the SAP system using web browsers. It replaces the previously used SAPwebconsole technology, which is no longer maintained or developed. The ITS platform provides access to SAP not just via barcode scanners, but also via any device having a web browser, such as a computer or phone.
The Benefits of ITS: The ITS Mobile technology becomes more popular among businesses that utilize mobile solutions in warehouses. It offers several advantages, the most notable of which are improved readability (colors), a wider range of compatible devices, and a larger screen operating area.
ITS Disadvantages: Besides that, when selecting ITS Mobile, keep in mind the higher program costs that result from the requirement of additional HTML templates for transaction screens. Also, we need to have additional basis consultant work such as the configuration of the ITS service in the SAP system.
All in all, SAP Warehouse Management (WM) is a critical SAP module that can help us to manage the warehouse effectively. This module includes tools and methods for keeping inventories at an optimal level. With the integration of Barcode scanners, the information of the inventory is controlled with higher precision, time-saving, cost reduction, and sustainability.
6. Reference
[1]https://help.sap.com/viewer/34fc810a607e4ae5a287b6e233b8566f/6.17.17/en-US [2]https://www.udemy.com/course/sap-wm-warehouse-management-training/ [3]https://www.guru99.com/what-is-sap-definition-of-sap-erp-software.html [4]https://barcode-labels.com/how-do-barcode-scanners-really-work/ [5]https://www.snp-poland.com/en/whitepapers/integration-of-sap-wm-with-barcode-scanners/ [6]https://www.prestele-it.com/en/barcode-scanner-x/