1. IoT
Describes a network of physical items, "things" that are integrated with sensors, software, and other technologies to connect and exchange data via the internet with other devices and systems. These products vary from basic domestic items to advanced industrial instruments. Access to low-cost, low-power sensor technology: IoT technology is made available to more manufacturers by affordable and dependable sensors.
Connectivity: A variety of Internet network protocols have made connecting sensors to the cloud and other "things" easier for efficient data transmission.
Cloud computing platforms: Enhanced cloud platform availability allows both companies and consumers to use the infrastructure they need to scale up without managing everything in fact.
Machine learning and analytics: Businesses may get insight quicker and easier through developments in the field of machine learning and analysis and access to various and huge quantities of data stored on the cloud. The development of this combined technology continues to push the limits of IoT, which are supplied by the IoT data,
Conversational artificial intelligence (AI): Advances in neural networks have made IoT devices (such as digital staff Alexa, Cortana, and Siri) natural-language processing (NLP) compatible and attractive, inexpensive, and feasible for home-usage.

Fig.1: Descriptive image for IoT(Source: https://canopytools.com/what-is-iot/)
2. ERP
Enterprise resource planning (ERP) This includes the kind of program that organizations, such the accounting, procurement, project management, risk management, and compliance, and supply chain operations, manage to manage everyday company activities. A comprehensive ERP suite also covers the administration of corporate performance, planning, budgeting, and reporting tools on the financial results of an organization.
ERP systems connect and allow the flow of data to a wide array of corporate activities. ERP systems reduce duplication of data and offer data integrity with one source of truth through the collection of common transitional data from many sources.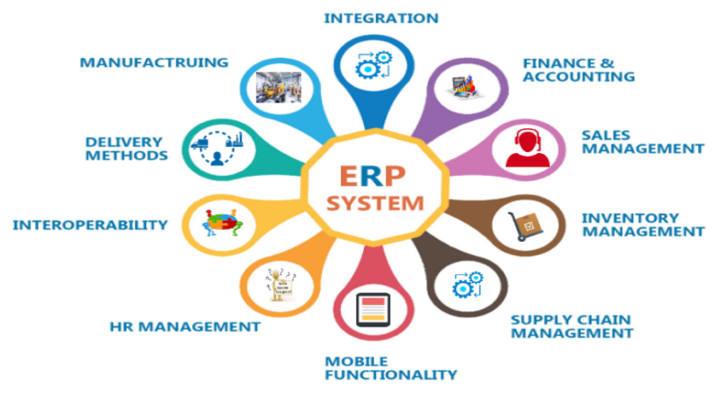 Fig.2: Pictures depicting the functions of ERP (Source: https://www.datavtech.com/a-brief-history-of-erp-software/)
3. Integrating ERP with IoT
Integration into IoT implies that the mixing of new IoT, IoT, and IoT systems – together with IT assets (business applications, legacy data, mobile, and SaaS) – work well with the implementation of IoT business solutions in one-stop-shop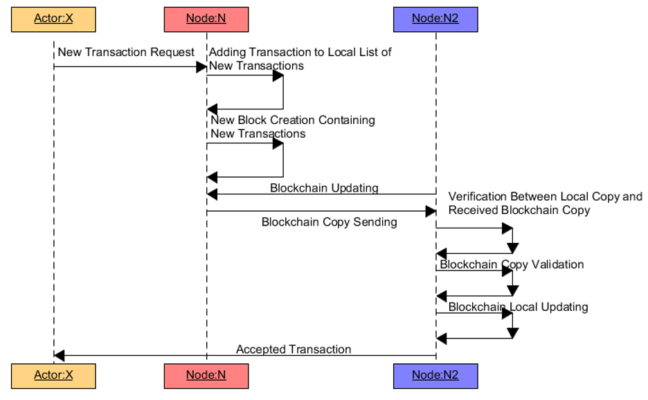 Fig.3: Image depicting Sequence diagram of system architecture integrating IoT devices, Mobile APP, and ERP with the blockchain network.
(Source: https://www.researchgate.net/figure/Sequence-diagram-system-architecture-integrating-IoT-devices-Mobile-APP-and-ERP-with_fig4_343570506)
4. Examples of Integrating ERP with IoT
Examples of old and new ERP (IoT) collaboration to bring great benefits to the organization
RFID (Radio Frequency Identification)
It was possibly one of the first sensor-based gadgets which were spurred by Wal-decision Mart's in the mid-2000s that its major suppliers would conform their RFID goods. In essence, RF tags are placed at the pallet, carton, or even SKU level to trace the movement of the items into, out, and throughout the warehouse or shop. So the next natural thing was that the information supplied by these RF tags was built into ERP systems that fully automated the reception and tracking of moves and shipment of items.
Imaginate that you may get a truckload of your goods and that your crew can handle it in minutes. your ERP. This is the kind of efficiency you would receive from RFID linked with ERP deployment.
Quality Processes in Manufacturing
Traditional quality methods depend on sampling techniques to assess if items are produced according to requirements. This is not only not exact, but it is also too late. It generates inefficiencies and unnecessary labor at various levels and may greatly decrease these events by using ERP-integrated IoT technology.
You may simply stop the line and repair the problem, for example, if you can find any differences from the requirements while the product is created. This would substantially reduce, if not eliminate, faulty parts.
The production devices and the product line may be monitored 24X7 with the use of IoT technology. How can a full component defect be caused if a slight variation in actuator speed is observed by the production line supervisor? It might take action quickly to halt future manufacturing without taking remedial action.
The fleet management sector has been one of the major benefactors of IoT and ERP integration. In addition to the normal benefits such as car tracking and geographic closure, data from IoT sensors may truly contribute to validating and achieving corporate aims.
For example, in the ERP program, every car with components identified and maintenance prevention schedules was already handled as an asset. What if the vehicle's OBD data is linked with maintenance information? What if? Perhaps the maintenance has to be more comprehensive, perhaps delayed, and certain maintenance components are lacking. Without the cooperation of ERP & IoT apps, such priceless data would not be feasible.
Supply chains are altered through the usage of IoT devices that are connected to ERP systems. The supply chain is not a set of opaque warehouses, shops, terminals, or vehicles anymore. Instead, the supply chain is a permanent dam of movement which offers visibility at the SKU level.
Imagine a circumstance in which you will see if the components you need to finish a product come from China. Your MRP takes into consideration the time of arrival as the containers are marked and continually communicate information about where they are.
Source:
https://www.oracle.com/internet-of-things/what-is-iot/
https://www.oracle.com/erp/what-is-erp/
https://www.erpsoftwareblog.com/2018/11/integrating-your-erp-system-with-iot-a-primer/